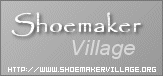 Demeter Terrain Editor


Demeter allows any user with build rights in an Activeworlds world to modify the terrain under their buildings using objects. Just some of the highlights of Demeter include:
Demeter works with the world registry to control abuse. Thus, abusive users can't ruin others' buildings by modifying terrain underneath them.
Use of the application by bots or tourists can be enabled or disabled to control vandalism or anonymous use.
Extremely low bandwidth and CPU usage occurs (average of 3% processor usage with an old 300Mhz machine).
Demeter is completely invisible to non-build users. When a citizen, tourist, or bot that does not have build rights enters a world, Demeter won't even message the avatar, so it's impossible for the person to tell whether Demeter is enabled in the world. In RPG-type worlds, Demeter can allow designers to create terrain, while players don't have to worry themselves about its presence.
Demeter is extremely easy to use - all that's needed to get started is your privilege password!
Demeter uses Activeworlds' object manipulation interface to manipulate terrain. Because it is much more powerful than the default terrain editor included with the Activeworlds browser, it's possible for a world owner to work up to ten times as quickly to design and upkeep large areas, even if nobody else will be using the bot.
An option is available to minimize the application to the system tray for those who host Demeter on normal-use computers
Demeter is easy to use, since it works identically in any world where it is enabled. Thus, developers can create plugins that work with Demeter to perform a variety of tasks. Furthermore, users who have used Demeter in one world can easily continue using the editor in another world.
Demeter can start up and shut down automatically, so you don't have to worry about it while your computer is online.
Demeter can log all of the activity in your world, including the privilege passwords of all users, so it's easy to determine if someone is using a stolen privilege password to cause trouble.
Read the help and documentation for a complete list of all features.
A full set of 41 terrain textures is also available for public use to get started quickly with Demeter! In addition, we also offer a standardized logo for your ground zero that is currently on display in most Demeter-enabled worlds. By seeing this logo at your world's entry point, users will know immediately that Demeter is running in your world. Full help and documentation is available by the link below.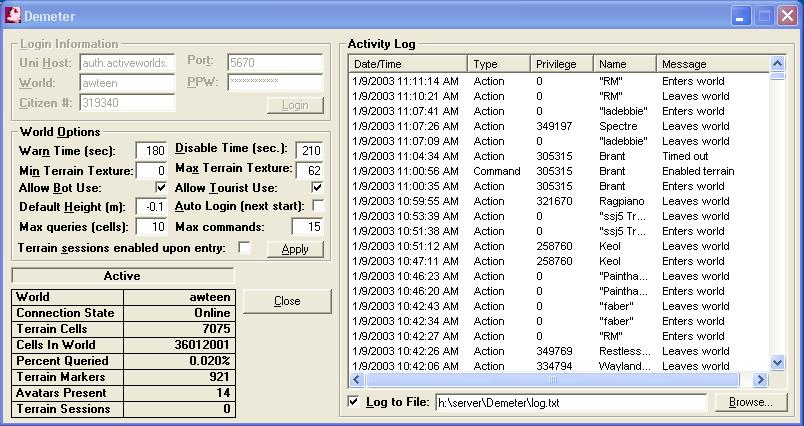 Demeter's program screen
Demeter Application Installation File
Filename: Demeter.msi
Date: July 13, 2004
Version: 1.30
Size: 1,914KB
Click to download
Demeter Ground Zero Logo
Filename: demeter2.jpg
Date: December 31, 2002
Size: 85 KB
Click to download
41-texture complete terrain set by Robbie
Filename: terraintex.zip
Date: December 31, 2002
Size: 844 KB
Click to download
Demeter source code (GNU General Public License)
Filename: TerrainCache.zip
Date: December 8, 2007
Size: 318KB
Click to download