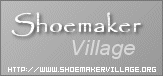 Ultimate Paintball


Ultimate Paintball is the premiere paintball software for use in Activeworlds! By allowing a network of worlds to participate in a game of paintball, Ultimate Paintball allows the hosting of games never before thought possible:
Ultimate Paintball supports up to 255 worlds simultaneously with synchronized score.
Grenades and frenzy powerups are available, with the option to set a certain number of each type of powerup or disable either completely.
Users can be teleported or ejected when shot. The administrator can set the teleport location to wherever you choose, or eject users with a 2.2 browser while teleporting 3.0 or greater users.
Up to 15 bosses can be specified who can use special commands to control the application in any of the network's worlds.
Statistics of kills, deaths, and kill-to-death ratios, can be kept.
Team warfare can be enabled, and a variety of team statistics can be kept as well.
Create and join teams at will, and leave them when required. Bosses can also disband and moderate teams in response to cheating and vulgar language.
Specific times can be set to start and end a match. All players can be notified of these times with a simple command. No administrator intervention is necessary during timed matches.
An integrated phone bot enables communication across worlds and universes.
Bots on the playing field can be ejected automatically to prevent cheating, and it is possible to eject cheaters or troublemakers from all worlds in one click.
A "bad words list" allows administrators to keep chat in worlds clean.
Creating and cleaning up skull objects in one or all worlds is a breeze.
A list of current players and their scores can be viewed at any time on the console or by whispering "score," "deaths," "ratios," or a variety of other commands to the bots.
Saving and loading different team and scoring configurations is a cinch.
Health and healing orbs add a new dimension to the game of paintball by requiring players to constantly rethink their strategies under changing conditions.
Trans-universal paintball games can be hosted with ease.
| | |
| --- | --- |
| | The Activeworlds Cy Award for Technical Innovation is awarded yearly to the individual who makes best use of the AW Software Development Kit to better the community. The author was awarded the Technical Innovation award for Ultimate Paintball, which can be downloaded at no cost from this page. |
Ultimate Paintball, along with detailed documentation of its features and their uses, is available through the download links below.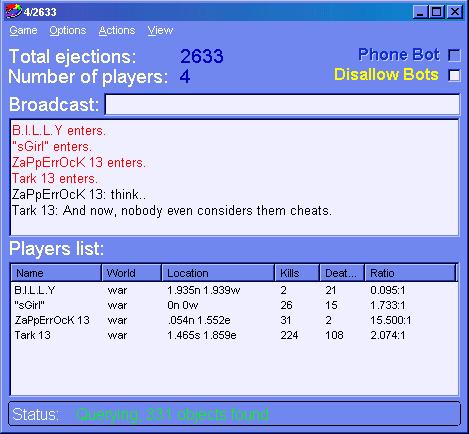 Ultimate Paintball's program screen
Ultimate Paintball Application Installation File
Filename: ultpb.msi
Date: August 24, 2003
Version: 4.04
Size: 2,145 KB
Click to download