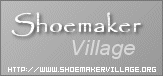 Overview


Shoemaker Village is a non-profit magazine that was published monthly by a group of high school students living in Willow Grove, Pennsylvania. Having its origins in May 1993, it began as a newsletter given to the Curry family, who have since moved to Collegeville, Pennsylvania. After their move, the Village was revived in May 1997 by the current editor, Stephen Sokolowski, as a means of providing information to the neighbors in his community. Since then, the magazine has grown to include writers and contributors from all over the world, and only about two or three pages each month is devoted to local news. Each month, the magazine featured contributions from writers of all ages and backgrounds, popular novels written by two contributors, an enormous humor section, a forum for anyone to express their views on a subject, and short stories, puzzles, and much more. The paper edition of the Village was distributed to several hundred readers around the country and world by March 2001.
The Village website has been in existence for over five years, and the magazine has grown at an incredible rate thanks to Internet media. Through the Internet, several of our writers have joined the Village and many readers have found out about the Village as well.
Currently, the Village is not being published. Many of the Village's staff members have moved on to pursue other interests in the past few years. However, the magazine's full archives are available on the Internet, along with historical news and copies of the novels that were published in installments throughout the years.