The Login Screen


After viewing the splash screen and going through the upgrade process, the login screen will appear.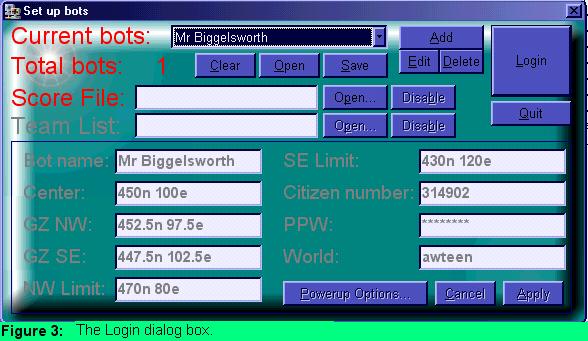 There are two main parts to this dialog box of which you should take notice: the top section, which lists the current bots and other game options. The bottom section lists the properties of the current bot. Note that only one section may be modified at a time.
The application allows you to login as many as fifty bots at once, assuming that you possess the required citizenships in order to do so. The bot lists may be modified manually with the "add", "edit", or "delete" buttons.
If this is your first time running the program, you will notice that the only one of the three buttons that is enabled is the "add" button. This button adds an additional bot to the list. When you click the "add" button, the bottom section of the window turns red, and the text boxes become enabled. You can then enter information specific to one bot that you wish to add. For more information on coordinates, see the Coordinates and Options page.
After you have added a bot, the "edit", "delete", and "clear" buttons become enabled. If you click "edit", you can edit the currently selected bot in the list. If you choose "delete", the currently selected bot will be deleted. Note that if you delete the last bot, you cannot click the "login" button until you have specified a bot or opened a bot list. The "clear" button clears all the current bots.
After you have configured the worlds and bots that will go in them, you can save this configuration to a file to save time later. To save a list, click the "save" button and enter a filename. By default, bot list files are specified with a *.bot extension. You can also open a bot file by selecting "open" and choosing a previously saved bot file. If you open a bot file, however, the current bot data will be lost.

Previous Topic: Getting Started


Next Topic: Coordinates and Options


Back to Index